Just south of Wicker Park and Bucktown, a new monster 'hood has arrived in West Town!
A little hyperbolic? … Probably. But Humboldt Park has become one of Chicago's best places to live. It deserves a little hype.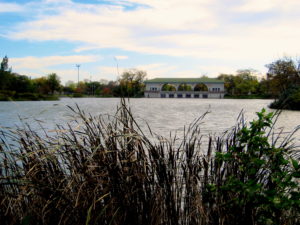 Humboldt Park offers residents top local restaurants and bars, a welcoming community, and an up-and-coming shopping scene. The homes are lovely and affordable. Housing ranges from vintage row houses and new condominiums to single-family homes and early 20th-century apartments.
The cherry on top? The neighborhood's namesake park. Known for its masterful landscape design, Humboldt Park's 207-acres are just as perfect for sports as a relaxing after-work stroll.
Just 6 miles from the Loop, getting around the city is easy with strong public transportation (CTA Blue Line, Buses, Metra) and the nearby Kennedy Expressway.
Humboldt Park Neighborhood Guide
Just to the north, Wicker Park and Bucktown get much of the hype, but Humboldt Park holds its own.
The area is renowned for being a thriving cultural center – including live music, festivals, and an eclectic art scene. All that plus the area's namesake park- Humboldt Park is a city-wide destination of its own! 
Humboldt Park Shopping 
From hip boutique shops to affordable daily necessities, residents have great shopping options in their neighborhood. Some newer additions to the area include Space Oddity, for books and other gifts, and Vintage Quest, for great thrifting. For groceries, both local grocers and major chains (Aldi, Jewel) can be found. 
Food and Drink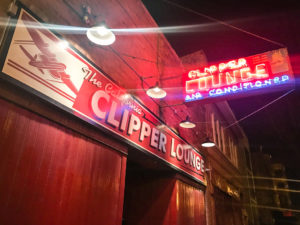 Renowned as one of Chicago's hottest dining destinations, Humboldt Park has high standards for eateries. You can find food from around the globe, including some fantastic Puerto Rican cuisine (check out the jibarito at Papa's Cache Sabroso).
Local favorites include Kai Zan, for incredible sushi, Taco L Jalisciense, for awesome tacos, and Flying Sauce, for healthy options and locally sourced food in 1950s-diner decor. 
The area also has some great watering holes. For a low-key dive, check out California Clipper with its awesome 1930s vibes.  Looking for something a little fancier? Rootstock Wine and beer bar have a super-long menu and surprisingly delicious food. That's not it, there are too many friendly local places to mention!
Humboldt Park Culture and Entertainment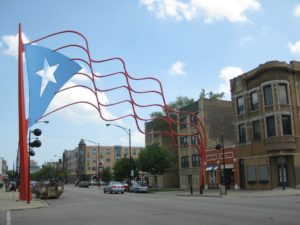 With festivals, museums, and culture exploding from the seams, there is a whole lot going on!
One great addition is The National Museum of Puerto Rican Arts and Culture. The only museum dedicated to Puerto Rican arts and culture in the continental USA, the museum is a treasure. The area also hosts the Puerto Rican Day Parade. 
Dig theater? Check out the Urban Theater Company's great productions.  Dance? Check out the Dance Academy of Salsa & Modern Latin Dance, for great shows and accessible classes. 
The Park and Beyond
Humboldt Park is a gigantic green space. Features include a lagoon, trails and plenty of wildlife. Come and play tennis, watch a little league game, or enjoy the extensive bike paths. The beautiful Fieldhouse offers a banquet room, fitness center, and gymnasium. Also in the area is the 606, a miles-long trail on a former rail track. 
Humboldt Park History
Early History (1850-1900)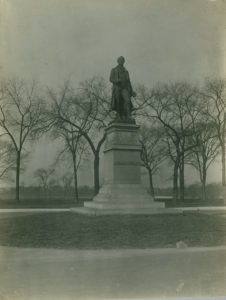 The Humboldt Park neighborhood grew around its namesake park. Built-in the 1870s, a stretch prairie was transformed into a pleasure ground complete with lagoons, horse trails, and beautiful Prairie-style buildings. The park and new railway lines built in the 1880s caused a spike in real estate values. By the turn of the century, a vibrant and diverse community lived in the area.
Middle Years (1900-1980)
The majority of Humboldt Park's homes were built in the early 20th century. Dozens of two and three-flats were built on the boulevards ringing the park and bungalows and frame houses were built on the surrounding streets. In these years, the area became a hotbed of writers including Saul Bellow, Nelson Algren, and Studs Terkel.
Humboldt Park Today (1980-Present)
By the 1980s, Puerto Ricans made up the majority of Humboldt Park residents. While the area was at a low economically, the community-made continual improvements in housing, business, and cultural programs. In recent years, the area has made a stunning recovery. Today the area is family-friendly, walkable,  and home to both new and long-standing businesses. And, of course, the park is still a great Chicago gem. 
Humboldt Park

Homes

 
Residents enjoy a wide range of housing options from vintage row houses that surround the park, 100-year old greystones, and newly renovated condominiums. The west side of the neighborhood has many single-family homes in several styles including vintage frame houses, mid-century, and contemporary. The cherry on top? The area is also one of the more affordable West Side areas. 
Green and residential, with great businesses and public transport, the area is a casual urban masterpiece. Come check it out!